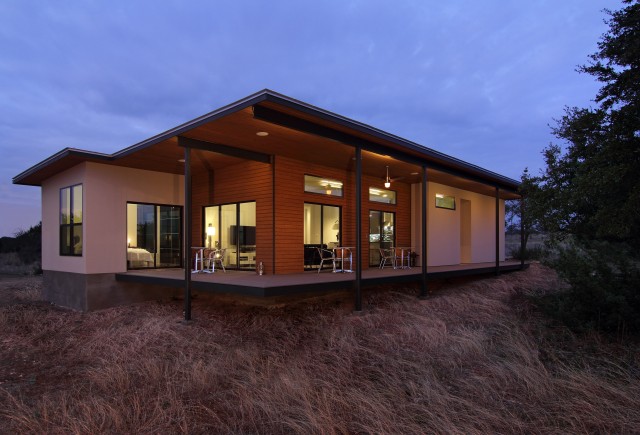 Last weekend, the Home Builders Association of Greater Austin held its annual MAX Awards Gala to honor those who made significant and creative contributions in residential home building through specific achievements during 2010. I was honored with the award for Best Product Design $150,000 – $250,000 for the MILHouse 2.0. I was also a finalist in the following categories:  Best Product Design $750,000 – $1,000,000 (Birdlip Residence), Best One-of-a-Kind Home, Best Green Home, Affordable Green Home, Green Built by Design, Best Kitchen – Custom Builder, Best Master Bath – Custom Builder.
All of my work that was recognized was done in collaboration with Foursquare Builders – to whom I owe a special thanks. Foursquare also took awards for their advertising campaigns created by Chris Minor (who also assisted me with the MILHouse 2.0), Construction Manager of the Year (Matt Carswell who built both the MILHouse 2.0 and Birdlip Residence) and for Custom Home Builder of the Year (Wes Wigginton, Foursquare Builders). This shows the importance of selecting and working with great teammates. I would also like to thank my clients Richard, Claudia, Michael and Pat for your trust – without you none of this would be possible.
Finally, since I was not able to give a speech, I would like to thank my wife Debora for her encouragement and constructive criticism of every project I do. I would be remiss not to acknowledge that all of my best ideas come from her (dangit!). Have I mentioned that it is very important to work with great teammates?
The complete list of MAX Award winners can be found here: http://hbaaustin.com/displaycommon.cfm?an=1&subarticlenbr=775